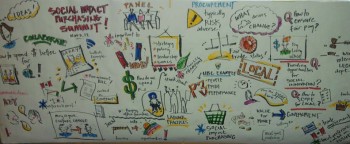 Fresh from a summit on social impact purchasing presented by Enterprising Non-Profits and their partners, my mind is overflowing with ideas and opportunities to explore.   How does this concept differ from buying green products?  It goes beyond the desire to reduce pollution and waste. Social impact purchasing looks at the composition and/or operations of the suppliers that we choose to work with and/or the products that they source to see what practices they've adopted to support and stimulate the local community.   I've given a lot of thought over the last few years to the physical impact that major events have on their communities but hadn't fully considered until now the legacy that we can create when we carefully consider how and where we choose to spend our budgets.
Some of my TAKEAWAYS from the day's discussions:
Rather than trying to change everything all at once, set priorities for the areas where you'll make specific efforts to encourage the inclusion of social enterprises
Differentiate between discretionary/informal purchasing, which may allow managers more freedom to find vendors  that offer value other than the lowest bid and formal purchasing which can be daunting to small and medium enterprises who are less familiar with the RFP process.
Set targets for the amount of locally sourced products and services that you will purchase and increase these over time
Add language to suppliers' contracts addressing the need for local production, local workforce and locally-sourced materials
If you're a small enterprise, consider only pursuing contracts of a  value which falls below the threshold that would typically trigger more formal  bidding processes
There are some great businesses in my local area that have unique and amazing products that  I would love to acquire for future projects.